When we were scouting our new location someone told us to go to 2416 W. North & ring the bell at the Tom Robinson Gallery. We waited as the door opened and a gentleman with kind eyes opened the door & without a moments hesitation invited us in. We stepped into an open and airy gallery with Italian opera wafting quietly through the air. The ceilings looked to be 20 ft high, the patina of the maple floors showed the travels of thousands of people through the years. The creamy ecru exposed brick walls held the most unusual works of art I've ever seen! My first thought is w
hat are these pieces made of? Then I stepped in for a closer look as Ty explained the reason for the visit.
"Brooke-Twins Seven 2010"
Tom Robinson the artist quietly explained what they were made of, why he choose the model, the different types of wood & the process.
Check out the video below.
http://vimeo.com/28952014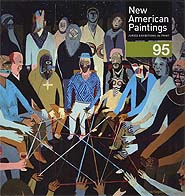 Tom has been selected
to be published
in edition
# 95
NEW AMERICAN PAINTINGS
Join Ty & I as we join Tom Robinson at:
The Union League Club of Chicago
Reception Thursday, February 2, 5:30- 7p
Business casual attire (no jeans or gym shoes)
2418 W. NORTH AVE Chicago,IL 60647
312.450.9821 or 773.664.3704